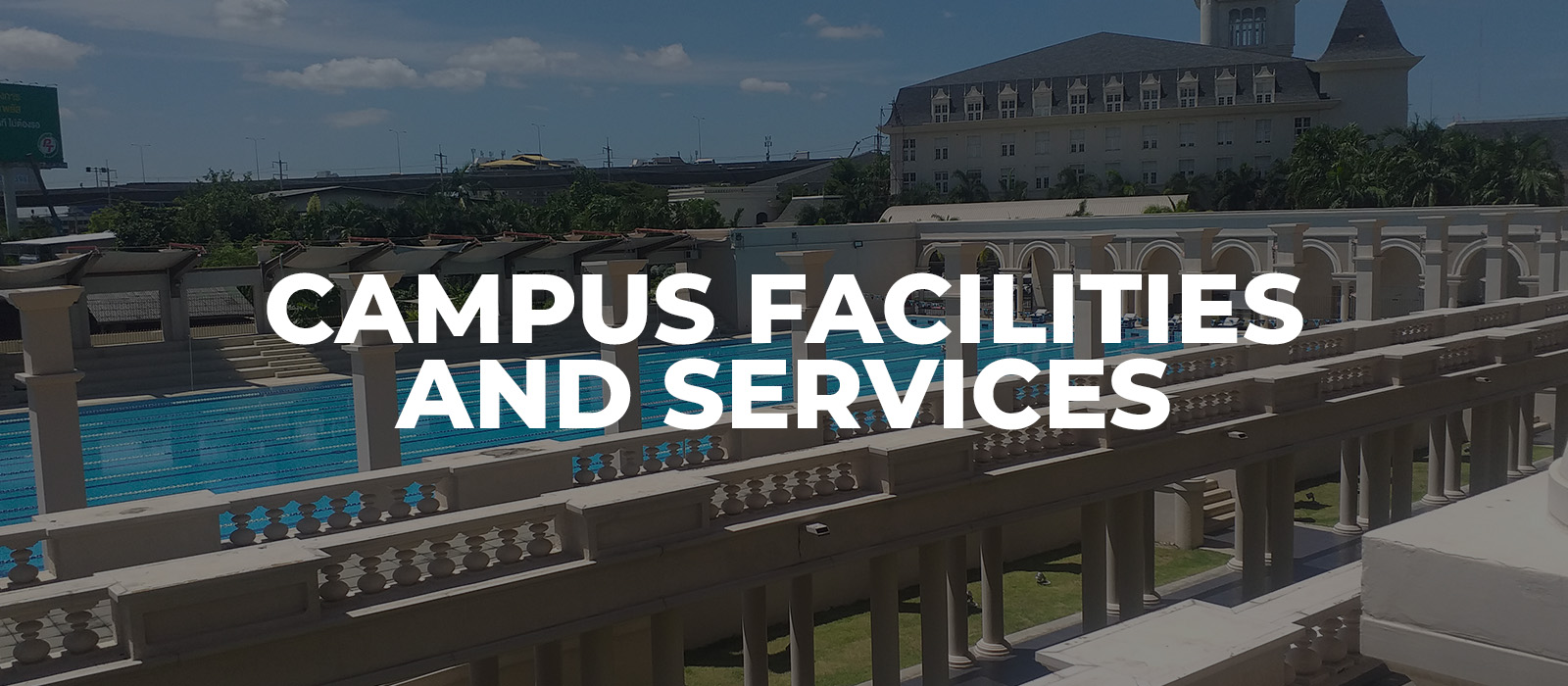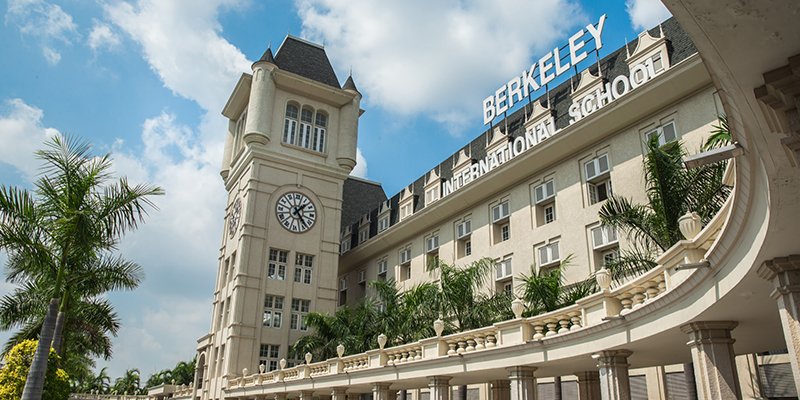 MAIN CAMPUS
Berkeley is famous for its imposing clock tower and elegant architecture but we are more than that. Our campus covers 5 hectares and is located at Bangna, one of the most convenient locations in Bangkok that can fit any lifestyle. Our campus is quiet yet grand, well-groomed and one of the most beautiful campuses in Bangkok equipped with modern facilities. Classrooms are air conditioned and have lots of open green spaces for learning.
LIBRARY
Our school library offers a flexible space for individual and group activities and is also well-equipped with a vast range of books, reading materials and other selections that are offered to the appropriate age groups. It is also tailored for the reading and research levels of our middle school and high school students.
CAFETERIA
The school cafeteria is air-conditioned and fully-catered. We highly promote nutritious and healthy eating for our students in all age groups by serving them a variety of cuisines and meals to suit different palettes. The school provides snacks and lunch throughout the school day by our cafeteria staff who are all trained to maintain kitchen hygiene and are always appropriately attired.
THEATER
Our 450 seat "Greek Inspired" theater is one of the many places where our students truly shine and its ambience is truly ideal to develop the artistic potential and talents of our students. It is a perfect setting for whole school productions such as stage plays, musical performances, and other special events. It is also fully equipped with lightning systems, special effects and digital sound system including seven 15" to 18" loudspeakers.
SWIMMING POOL
We have three saltwater swimming pools in the campus that are available to students during their PE (Physical Education) classes which also includes a full changing room and shower facilities. Our outdoor swimming pools consist of a full-fledged 10 lane 50 meters (Olympic size) swimming pool for competitive practice, a standard 5 lane 25 meters swimming pool for general swimming education, and 1 shallow pool that lets teachers teach our younger students with peace of mind. Our pools are also equipped with a water purification system that results in cleaner water and a lifeguard is always on standby when the pool is in use.
GYMNASIUM
Our air-conditioned gymnasium has the capability of housing 3 courts for volleyball, basketball, and futsal and 4 courts for badminton. It is also equipped with retractable bleachers and electronic scoreboards that can run at the same time if needed as well as complete sound systems. Students also use the gym during their PE (Physical Education) classes and on weekends during scheduled games.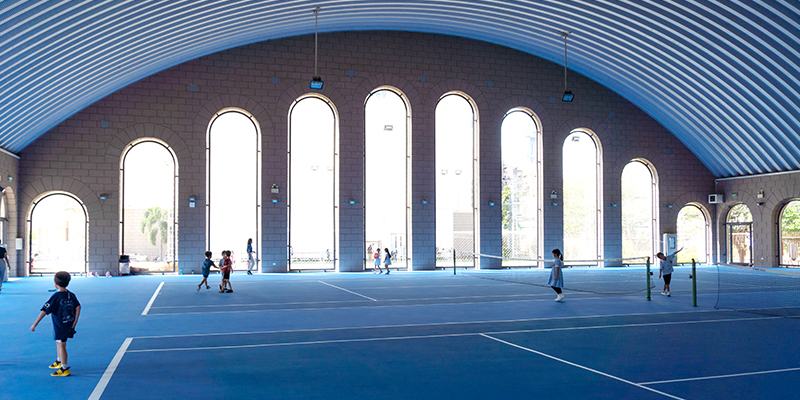 TENNIS COURT
Berkeley features one of the best indoor tennis facilities in Bangkok and our three "all weather" indoor tennis courts are available for students to play year-round.

SOCCER AND RUGBY GRASS FIELD
Our grass field is a great venue for soccer and rugby, either matches or training. It can accommodate 7-a-side matches on half or 11-a-side matches of the full soccer field. There is also a smaller soccer field near the tennis court and the main soccer field and can accommodate 5-a-side matches or training. All grass fields are regularly maintained.
PLAYGROUND
Berkeley offers a balance of learning with playtime and our brilliant playscape makes our younger students engage, amaze, develop their skills, and socialize with their peers. Our playground is spacious, shady, and outdoors . We also have a variety of surfaces and equipment for playing, a sandy equipment area, and a shady table area for resting.

GARDEN
Part of the beautiful school grounds of Berkeley is dedicated to the school garden. It is a magical place where students, accompanied with their teachers, come to get hands-on learning about animals and various kinds of plants. Chickens, ducks, geese, swans, and koi fishes are one of the main attractions at the school garden.

CLINIC
Our clinic is located at the elementary building and a nurse is on duty Monday through Friday from 7:15 AM to 4:15 PM. Our clinic staff collaborates with students, families, staff and faculty to promote good health and wellness.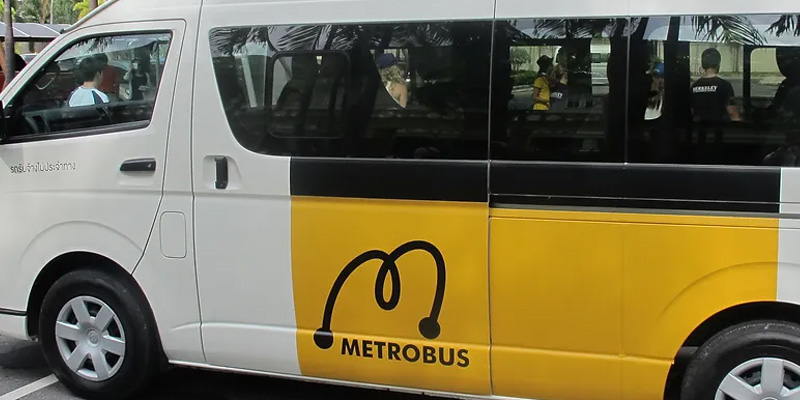 BUS TRANSPORTATION
The top class Metrobus transportation service is providing and operating the majority of school transportation in Berkeley. Each school van can accommodate 13 passengers in the back seat and are equipped with seat belts, SMS tracking, and CCTV. In addition to a driver, an English speaking bus attendant is present to provide supervision and assistance. Transportation services can be paid for on a term or yearly basis and prices are dependent upon distance. Please feel free to contact our school bus coordinator, Ms. New, at wwariwong@berkeley.ac.th for more information.